January 26 2021 4 Commented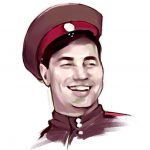 This pre-war comic song "Vasya-Vasilyok" was written by the famous Soviet composer Anatoly Grigorievich Novikov based on the verses of S.Ya. Alymov in 1940. Composer Novikov also wrote many other popular songs of that time. Among the most famous works were such as "Smuglianka", "Oh, Roads!", "The Ballad About Russian Boys", "John Reed walks along Petrograd" and many others.
Below is the most recent version of this song performed by Igor Volkov (bass), Ivan Bukreev (tenor) and the Alexandrov Ensemble of the Soviet Army. The record was made in 1976.
At first I was not sure whether to publish this performance or not. The reason was that this song, as many of you might already know, was once successfully performed by my father in duet with Ivan Bukreev. For me personally, this is the best performance of this song compared to other performances. And as far as I know, there were only three of them: 1) in 1941, performed by soloists N. Abramov and I. Kuleshov with the Song and Dance Ensemble of the Moscow Military District under V.P. Pobedinsky, 2) in 1942, G. Babaev and V. Puchkov with the Alexandrov Ensemble and 3) in the mid-70s the duet of I. Bukreev and I. Volkov with the Alexandrov Ensemble. Moreover, there is only one known recording with the participation of I. Bukreev. In general, it is strange that such a popular uplifting song written by such an eminent composer as Anatoly Novikov was performed so rarely. Anatoly Grigorievich Novikov, by the way, was also the Chairman of the artistic council of the Alexandrov Ensemble since the mid-40s.
When my father left the Ensemble, Boris Alexandrov gave some of his works to the new soloist of the Ensemble, Igor Volkov. In particular, such songs were "Vasya-Vasilyok" and "The Dark-eyed Cossack Girl".
Unfortunately, the video recording of the performance of Leonid Kharitonov and Ivan Bukreev with this song is not yet publicly available. However my father recalled that when they sang it with Bukreev at the concert in the Palace of Congresses in Moscow, he saw television cameras there, which means that the filming was carried out there and most likely is available in the Television and Radio Broadcasting Foundation. I really hope that someday this recording will be shown to the public.
Lost "Vasya-Vasilyok"

,