August 14 2016 5 Commented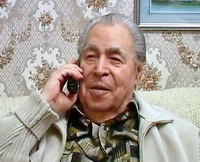 This video represents an interview of Leonid Kharitonov (the famous Russian opera singer) for the BBC Radio 3 channel. This conversation took place in December 2011 via international telephone connection.
Leonid Kharitonov told about his first experience of the Cliff song solo performance with the Alexandrov Red Army Choir at the Kremlin Palace of Congresses in Moscow in 1965.

The radio program itself was dedicated to the choral works of the Alexandrov Red Banner Song and Dance Ensemble of the Soviet Army. The programe also include Leonid Kharitonov's memories and some interesting comments from the Ensemble's fan from UK – Linda Spashett OCarroll.
IMPORTANT! This video contains English subtitles! Be sure to turn Captions (CC) on in your YouTube player to view the subtitles! It's the last right button on the player's tool bar.
Leonid Kharitonov also kindly helped to create a playlist of the Alexandrov choir songs for the BBC Radio 3 program.
You can listen to the BBC Radio 3 program by clicking at THIS LINK HERE.
---
Leonid Kharitonov's interview for the BBC Radio 3

,